Costa Maya Festival Update
The International Costa Maya Festival is monitoring the weather and is working closely with the National Emergency Management Organization (NEMO).
The festival continues as scheduled. If there are any changes we will advise. Thank You! ICMF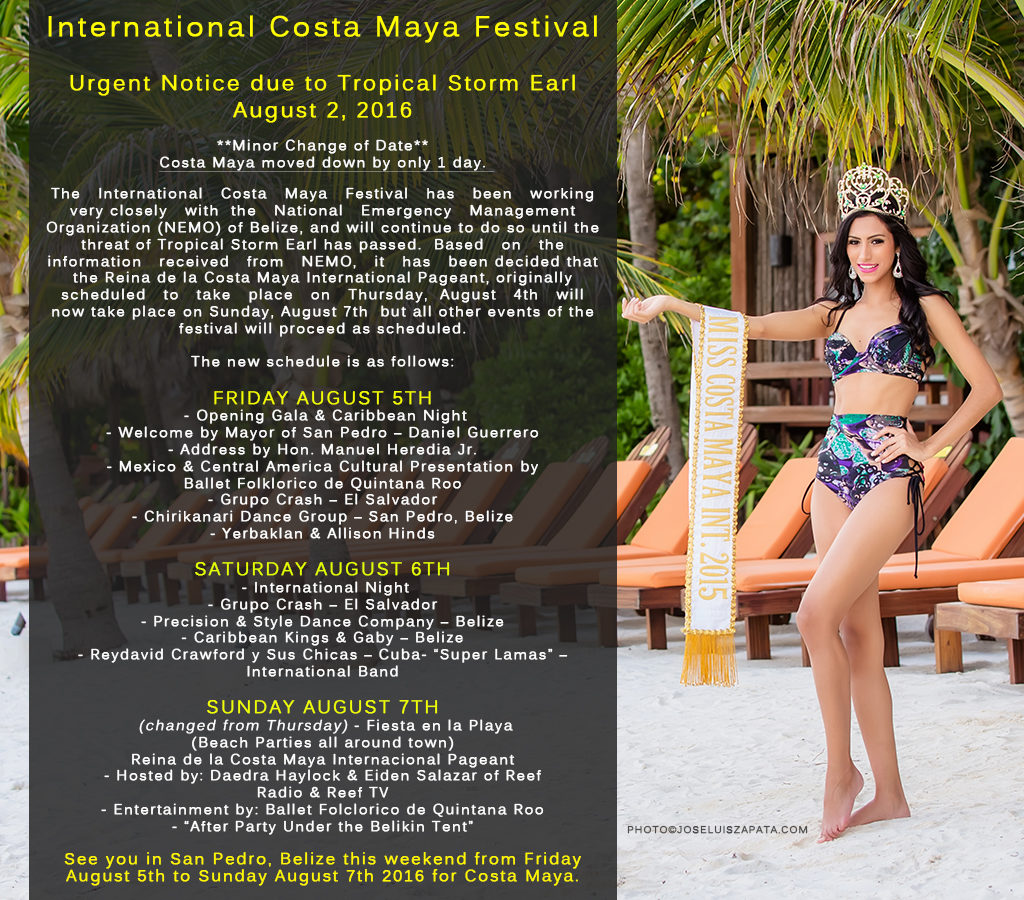 PRESS RELEASE
International Costa Maya Festival
Urgent Notice due to Tropical Storm Earl
August 2, 2016
**Minor Change of Date**
Costa Maya moved down by only 1 day.
The International Costa Maya Festival has been working very closely with the National Emergency Management Organization (NEMO) of Belize, and will continue to do so until the threat of Tropical Storm Earl has passed. Based on the information received from NEMO, it has been decided that the Reina de la Costa Maya International Pageant, originally scheduled to take place on Thursday, August 4th will now take place on Sunday, August 7th but all other events of the festival will proceed as scheduled.
The new schedule is as follows:
Friday August 5th
– Opening Gala & Caribbean Night
– Welcome by Mayor of San Pedro – Daniel Guerrero
– Address by Hon. Manuel Heredia Jr.
– Mexico & Central America Cultural Presentation by
Ballet Folklorico de Quintana Roo
– Grupo Crash – El Salvador
– Chirikanari Dance Group – San Pedro, Belize
– Yerbaklan & Allison Hinds
Saturday August 6th
– International Night
– Grupo Crash – El Salvador
– Precision & Style Dance Company – Belize
– Caribbean Kings & Gaby – Belize
– Reydavid Crawford y Sus Chicas – Cuba- "Super Lamas" – International Band
Sunday August 7th
(changed from Thursday) – Fiesta en la Playa
(Beach Parties all around town)
Reina de la Costa Maya Internacional Pageant
– Hosted by: Daedra Haylock & Eiden Salazar of Reef
Radio & Reef TV
– Entertainment by: Ballet Folclorico de Quintana Roo
– "After Party Under the Belikin Tent"
See you in San Pedro, Belize this weekend from Friday August 5th to Sunday August 7th 2016 for Costa Maya.
:-End of Release:-